Wordfast Pro 5 - now 25% off with TGB!
Wordfast Pro 5 - now 25% off with TGB!
Translate faster with Wordfast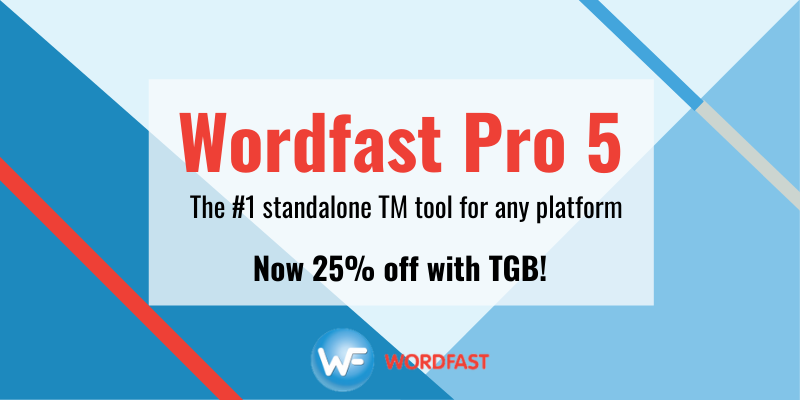 Wordfast is the world's number #1 provider of platform-independent translation memory software. In independent research, Wordfast has been ranked ahead of the competition in 8 out of 8 categories including speed, ease of use, and value.
You can install Wordfast Pro on up to two computers and it can run on Mac, PC, or Linux* operating systems. Customize your user interface to translate side-by-side (table) or top-to-bottom (print layout). Detach your Live Preview window when working with multiple monitors. Translate virtually any file type, including client files generated by SDL Trados and MemoQ. Batch analyze, pre-translate, run quality control, and clean-up multiple files in seconds. Use built-in OS voice recognition or Dragon Naturally Speaking to translate faster and prevent repetitive stress injuries. Wordfast Pro changes the TM landscape for every stakeholder in the translation process, from project manager to individual translator.

To learn more about Wordfast visit http://www.proz.com/wordfast

Please check your spam or junk folder as the email is sometimes captured as spam. If you encounter any problems please contact the TGB team at tgb@proz.com



List of benefits

Cross-Platform Compatibility
Translate in a WYSIWYG editor
Filter segments based on status
Export Bilingual Table for review
Customize the user interface
Batch process multiple files
Access unlimited TMs and Glossaries
Integrate Machine Translation engines
Connect to server-based TMs & glossaries
Chain multiple files together
Target-only live preview
Auto-Suggest terms and TM sub-segments
Perform real-time QA (TransCheck™)
Track segment changes
Lock 100% matches
Spellcheck with MS-Word (PC) or Hunspell
Export segment notes
Invert TMs
Export/import translation packages
Glossary and TM editor
And much more!
Campaign package: Wordfast Pro 5 with 25% off
Work Faster with Wordfast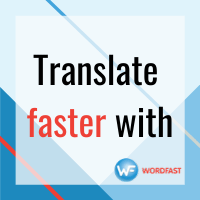 Item
Company
Price (USD)
Price (EUR)

Wordfast Pro 5


The #1 platform-independent TM tool


Wordfast
460.00
414.00
Total retail price (for 1 item)
USD 460.00
EUR 414.00
Translator group buying price
USD 345.00
EUR 310.00

Login to add your name! »



Please note the following terms:

You will receive an email from tgb@proz.com confirming your commitment and another(s) with the payment instructions or with an update before the date the sale ends. If you do not receive any emails please check that they haven't been marked as spam by mistake or contact us at tgb@proz.com.

Wordfast products are try-before-you-buy. You must have downloaded, installed, and evaluated the product(s) before purchase. There are no refunds. View the Wordfast end user license agreement

Wordfast works for free (without license) with translation memories up to 110 Kbytes, and/or 500 TU (translation units).

Buying a license removes this limitation and allows you to use Wordfast on jobs of any size.

Please be advised that the license may take up to 72 hours to be delivered.

Buyers will be sent a link to register for the scheduled training once purchase is completed.

This price DOES NOT include VAT. If you live in the EU you will be required to supply a valid VAT ID or pay for VAT. Please refer to this link in case of a VAT issue: http://ec.europa.eu/taxation_customs/vies/vieshome.do
Want to take part in this group purchase?

ProZ.com users participating in this group buy
The following ProZ.com members are participating in this group purchase:
Translator Group Buying
Group Buy
Wordfast Pro 5 - now 25% off with TGB!
| | |
| --- | --- |
| Lot size: | 15 |
| Units claimed: | 5 |
| Units left: | 10 |
Sale closes May 31, or when the final 10 units are reserved
Need help?
Contact site staff via support »